Estimated readingtime: 3 minutes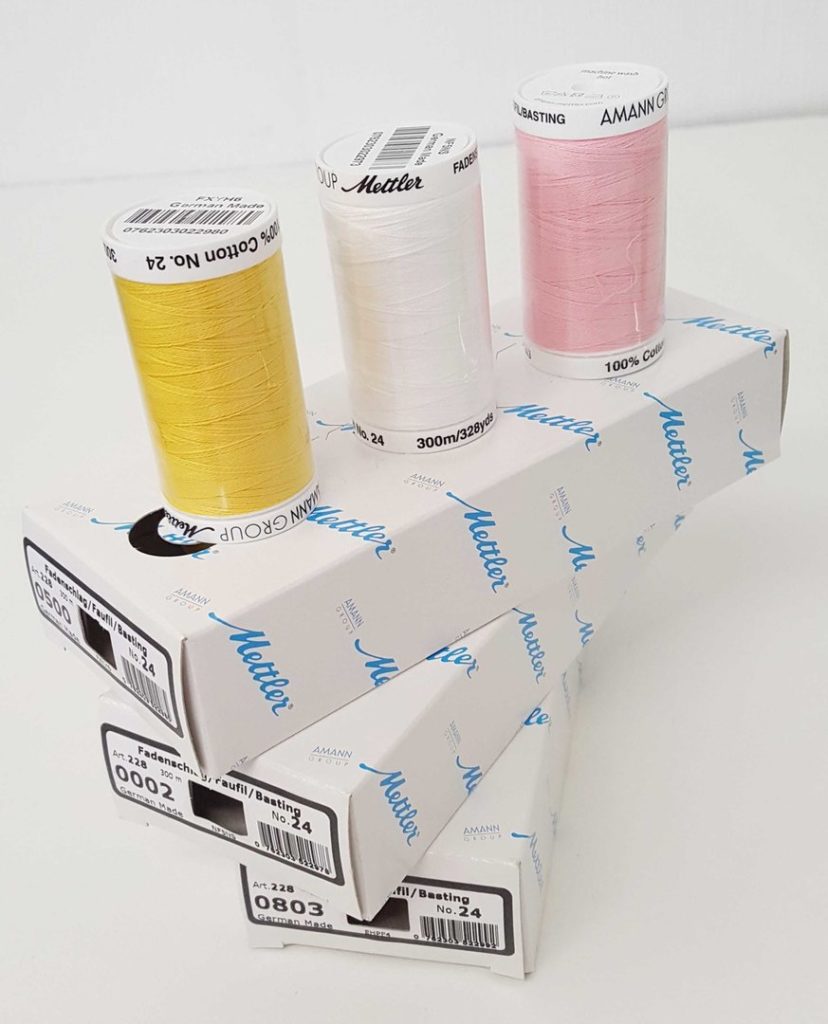 Basting thead made from cotton or wash away? They are very different but are used in the same way.
Cotton basting thread is the most welknown type. It is natural / cream coloured and sold on small spools in haberdashery shops. If you use it a lot you can buy the bigger spool. The normal spool is 20 grams (about 300m) but the bigger spool is 50 grams, wich equals about 750m. Both are sold on cardboard spools.
Also made from cotton are the coloured basting threads. These are sold on plastic bobbins like you see in a cabinet with universal sewing thread. Available in white, yellow and pink. All of these 300m spools you can compare to the small spools of 20 grams in the previous paragraph…
Wash away basting thread
Last type of basting thread is the wash away basting thread. As the name suggests you can wash it away. It is water soluble so throw the garment in the washing machine or rinse by hand. Either works and after the rinsing there is no trace of the wash away thread.
When do you use cotton or wash away? The wash away basting thread is very handy if you do not enjoy picking all these threads out of the garment. Te main reason to choose it is convenience
Wash away is white so if you need a coloured basting thread you can select the yellow or pink cotton variety. The yellow colour is brighter than the pink one. If you are apprehensive about using a bright colour should it bleed in the wash try the pink one.
Having said that, the basting thread we sell by Amann Mettler will not quickly give off colour. It is a good quality basting thread, not to be confused with a cheap nameless brand.
Want to know more about how to use basting thread?
Read more about using basting thread in our blog: (dutch) How to use basting thread – 10 tips for beginners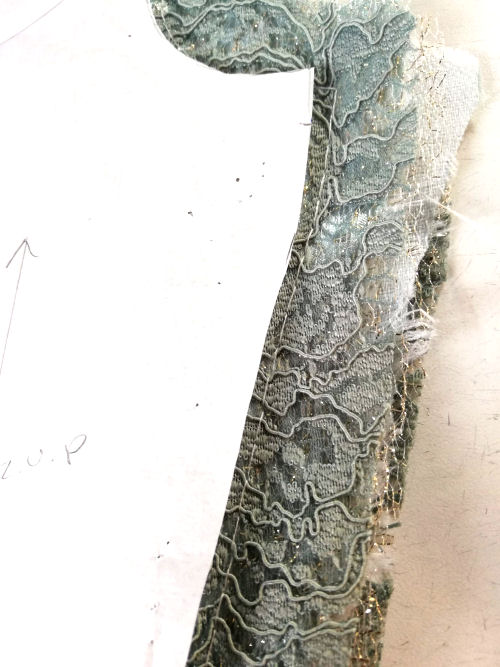 Tip from a customer
Use wash away thread to stithc lace pattern pieces to the fabric pattern pieces. You can sew with it on the sewing machine, just along the edge of the pattern…
You see the stitch on the edge of the pattern in the picture.
The customer giving this tip makes the most beautiful dresses, including bridal gowns. We have another customer like that and she uses transparent sewing thread to stitch lace onto fabric…