Estimated reading time: 4 minutes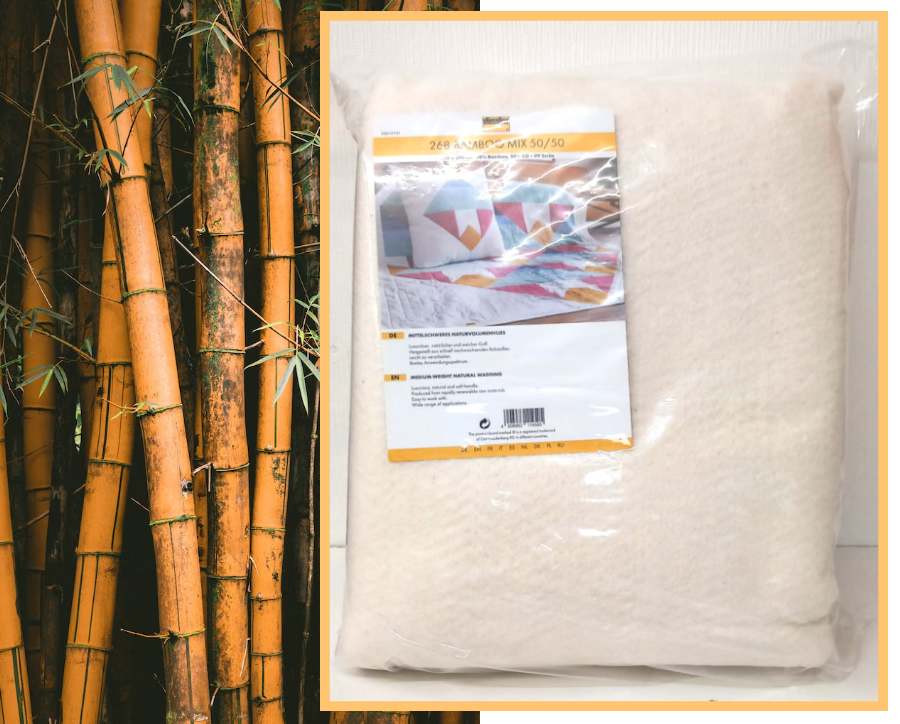 Bamboo Mix Volume fleece by Vilene
Bamboo mix is now available from stock, make a new autumn coat or a warm wintercoat before winter comes!
Naturally this volume fleece can also be used for quilting or making a bedspread. Playpen rug or childrens clothing more to your liking? This natural fleece will do that too…
Bamboo mix, natural fiberfill or batting
The Bamboo mix volume fleece by Vilene is a new addition to our productrange. Our long time customers know we prefer natural fibers and Vilene offers a lot of beautifull types. For example the woolmix volume fleece for a warm wintercoat.
The soy mix is also one that we sell a lot. This is nice and thin and made from soy and cotton. Fifty-Fifty! The bamboo mix is also like that, half bamboo, half cotton. Both contain a few percent PPScrim, giving it a little extra strength. You can not tear bamboo or soy mix in half like you can with fiberfill.
While the thickness of bamboo mix and soy mix are simmilar, the touch is different. Bamboo mix is even softer than soy mix. Henny has examined both and says the bamboo mix is denser than the soy mix, therefore we expect the bamboo mix to let through less wind.
All data and ordering
You can find Bamboo mix in our shop. With the product description you will find an attachment with the infosheet of this great volume fleece. On it there is all info we have on the bamboo mix and how to use it.
On the website of Vilene you can find info on it too and ofcourse about all the other interlinings by Vilene ( Freudenberg).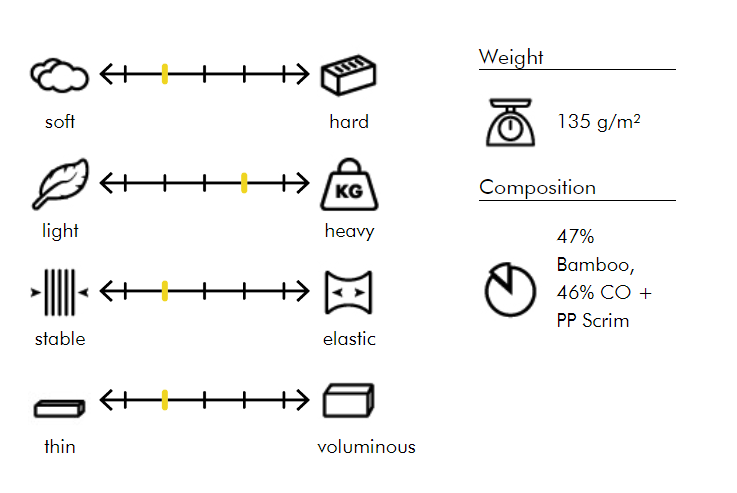 Here you can see a bit from Vilene about Bamboo mix. The yellow lines specify the elasticity, softness and thickness of the volume fleece
Would you like to order Bamboo mix by Vilene click on one of the buttons in the next paragraph or visit our shop at www.beautyvof.nl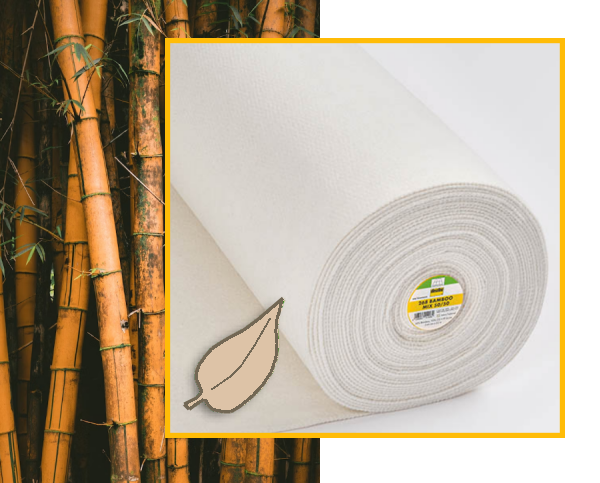 3x bamboo mix
In onze shop you can find this product in 3 different ways. We have a bag with a piece of bamboo mix of 270x220cm, now in stock. If that is too much we also sell it by half a bag. When you order that the piece will be 135x220cm. Most fabrics are 140cm wide. If you take 135cm as the fabric width you have 220cm of bamboo mix. Surely you can make a coat from that, right?
Possibility 3 is a whole roll of bamboo mix. That is not available from stock and will have to be ordered for you. That is because rolls of volume fleece are large and take up a lot of space.