Thé sewing thread for straight seams in stretch fabrics
Seraflex stretch thread for on the sewingmachine. This quality elastic sewing thread was given the name Seraflex, flex stands for flexible, or stretchy. And that is what Seraflex certainly is! Because it stretches about 65% it is really fantastic elastic. With this thread you can sew all kinds of stretch fabrics. Take for example jersey for your T-shirt, a stretch cotton fabric for a pair of pants or a wool/polyester mix with stretch for a jacket, all these are sewn with Seraflex!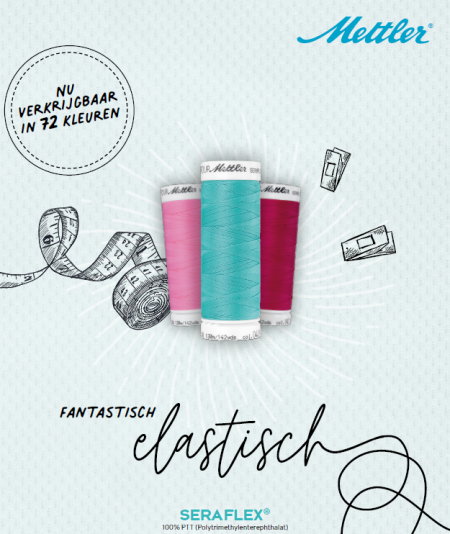 How to sew with seraflex stretch sewing thread
Because Seraflex fantastic elastic is made for straight stitching stretch seams, you loossen the top tension and don't wind the spool to tight. You would not want to stretch out your seraflex thread before sewing with it! Tired of unpicking the sewingmachines stretchstitch too? With seraflex stretch thread that is in the past. Just sew straight ahead…
Stretch thread seraflex facts
Amann Group Mettler has expande the colour range up to 72 colours, what Amann Mettler says about this thread:
Suitable for the topthread and the bottom thread in the sewing machine
Reduce tension to as low as possible to keep the stretch in the thread
Specially suitable for use on the sewingmachine
With a double seam the elasticity is much better than when using universal sewing thread
You use less thread because you do not have to sew seams with a stretchstitch or use the overlocker to sew your stretchy garment
Extremely suitable for sewing stretch fabrics. That means Sportswear, lingerie and other clothing made from stretch materials
Prescribed needle size 70/11 to 80/12 that suits the thickness of the thread best
Available in a thread cabinet with 72 colous or display of 30 spools
Raw materials: Polytrimethylenterephthalaat



Above you will find the washing and care instructions of Seraflex stretch thread sewingmachine. You may wash it up to 60 degrees and even put it in the dryer. the thread can even be bleeched although your jersey fabric probably will not withstand it…
Want to know more about the elastic thread?
We have tested Seraflex stretch thread sewingmachine ourselves and wrote a blog about it. Read it for tips and tricks:
Or visit the shop and order your own spool, box, display or thread cabinet and have fun Check out the colour chart for every one of the 72 colours and pick the right colour for your project