Vilene interlining specially for stretch fabrics
With the stretch fabrics of today you need an interlining that has stretch as well. There is vilene interfacing of 75 to 90cm wide and the stretch tapes by vilene.
Types of stretch vilene interlining
Which interfacings are there for stretch fabrics? Vilene has made 3 types that are suitable for different fabrics and garments.
Are you sewing a T-shirt from a jersey fabric the most used are H609 vilene and jerseyfuse vilene. The difference between the 2 is how they stretch.
Vilene H609
This one is extremely elastic. In the width and the length and it stretches a lot too! It's name extreme elastic is certainly not extravagant. 
Because it has so much stretch it is very suitable for thin, baggy jersey that you want to keep from bagging. You can even fuse it to the entire front if your pattern or fabric requires it.
Mostly you will reinforce small pieces like facing with this type of interlining.
H609 vilene interlining is a thin type of interfacing. Looks a little like chiffon fabric, also see through and elastic…
Jerseyfuse interlining
Jerseyfuse interlining is the first stretch Vilene that was launched. It has only width stretch. So if you would fuse the entire front it will nog sag and give in the width when you move. 
The jerseyfuse vilene is a nice and thin cloth and has a very fine checkered look. You can see the plain weave (very fine) and it's a transparent.
Use jerseyfuse also in stretch waistbands, facing of necklines and offcourse in that beautifull dress made from the heavier jersey: Punti di Roma.
G770 vilene
Vilene number 3 is the G770. This one is specially made for heavier stretch fabrics and is commonly used in jackets made from stretch fabric.
Are you sewing a garment for a party of business lunch, you would likely make a fitted garment. That's when this vilene comes in handy!
Choosing the correct type of interlining is not an exact science. Therefore think in advance which parts you would like to reinforce and how much sturdier your fabric needs to become. And remenber: You do not have to use one type of interfacing for all parts, combining is possible…
If you are not sure which type to choose you can always buy samples. Try them on the fabric and make a better choice!
Stretch vilene tapes
The good thing about the Vilene brand is that they are in touch with the market and have special tapes like waistshaper, hemtape etc. There are also stretchy tapes, stretchfix hemtape and flexible edgetape. 
Stretchfix Hemtape
Like the name suggests Stretchfix hemtape is meant for the hem of clothing. The non-stretch fabrics are fused with bondaweb and Stretchfix is a stretchy bondaweb. Ideal for elastic hems.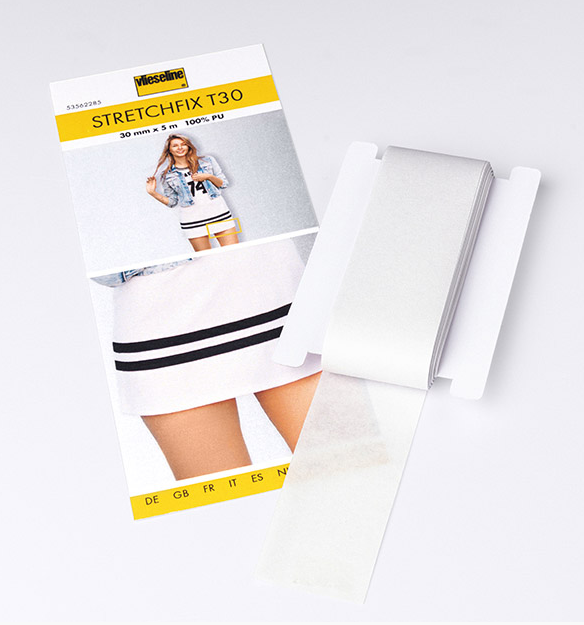 Stretchfix is transparent, just like bondaweb. The width is different, the bondaweb is 2cm, Stretchfix is 3cm wide. A great size for the hems of T-shirts, jackets, skirts and dresses. And if it's too wide? Just cut it in half! 
Next to hemtape stretchfix is also available at 30cm wide. Maybe you have made appliqué with bondaweb at some point? Then you know what to do with stretchfix: Appliqué on stretchfabrics, that's right! 
Flexible Edgetape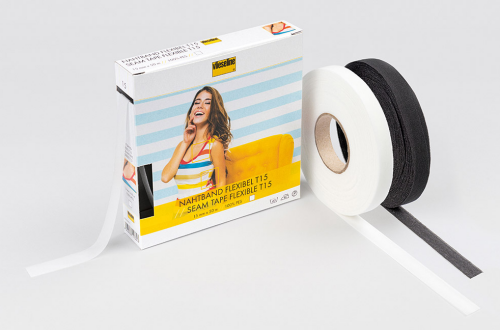 Elastic tape specially for the seams of stretch fabrics
Edgetape is a very old product, vilene has sold this for many years. Now there is flexible edgetape, a new version. This one is stretchy and you fuse it to the edge of the fabric. Flexible edgetape is a little wider than standard edgetape. With 1,5cm you have a more room.
It is a thin interlining that will not show on the right side of most fabrics. Although a test is always a good idea….
Flexible edgetape is available in packs of 5m or roll of 50m.
Do you like stretch fabrics? Try the large roll!
Ironing elastic stretch Vilene interlining
Ironing on stretch interfacing is done without moving the iron. If you move the iron over the interlining it will stretch and contort the fabric underneath. So do not move the iron on the surface, lift it up and put it down on the next spot. Step by step works best.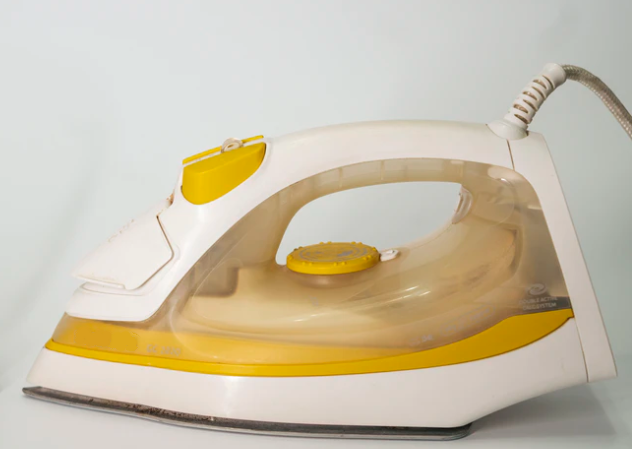 A good tip:
Put the front on the ironing board and check with the pattern to see if you have placed it correctly. So that the straight edge is straight and you haven't stretched it too much. The more precise you work when applying interlining the better the end result will be and it will be easier to sew. 
More tips on applying interfacing? Read the golden vilene tips…
Repairing holes in T-shirts
It happens to all of us, little holes in your T-shirt. Mostly in a very visible spot: your belly. These holes are created when you lean on the table or kitchencounter en your T-shirt is caught between that and something metal like the jeansbutton of metal zip. 
Such a hole is in fact a broken thread. Jersey is a knitted fabric and when you cut a thead it will unravel. Because jersey is a fine fabric it is not easy to get the ends together again. With interfacing a hole can be repaired.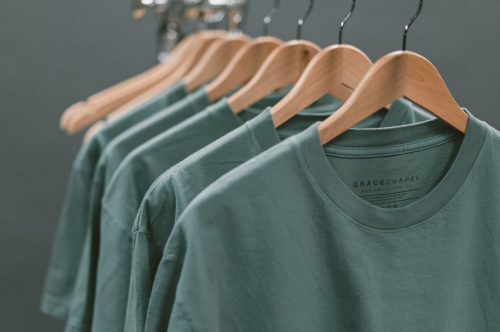 Use a thin vilene interlining like H609 or jersey fuse and cut small pieces to iron behind the holes. A bit like you would fix a bike tire, you cut a round piece and glue it on.
You can also iron on a whole strip of vilene interfacing but that will make the whole piece firmer and often that will be visible from the right side of the fabric. Because that is not a good look, little pieces are better.