Measuring buttons and pleats with the Simflex
The Simflex Expanding Sewing Gauge
What is a Simflex Expanding Sewing Gauge? It is a very usefull tool for measuring distance between buttonholes, buttons en pleats on patterns and fabrics.
Imagine this: You are sewing a coat and it will be closed with buttons at the front. So when it is time to measure out where the buttonholes and buttons should go you have to muddle through with your sewing tape and pins or chalk… For each buttonhole you measure again. It is the same when you make a blouse, blazer or coat and all other clothing with buttons and buttonholes. Wouldn't it be easier to get your simflex, pull it out to the desired length and voilá the points for your buttons are all evenly spaces and simply chalked. Isn't that handy?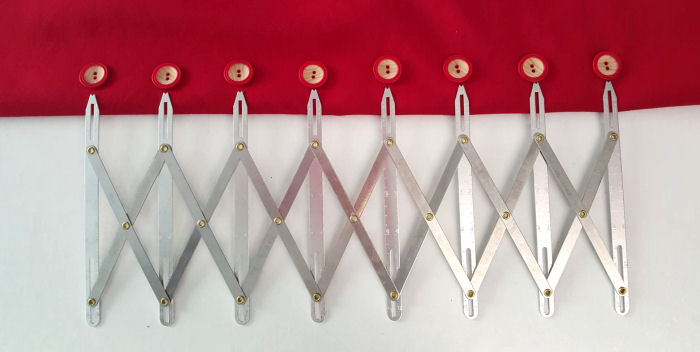 Snaps, press studs or poppers and the simflex
When applying studs, snaps etc. the simflex is very usefull. From now on your press studs are aligned perfectly!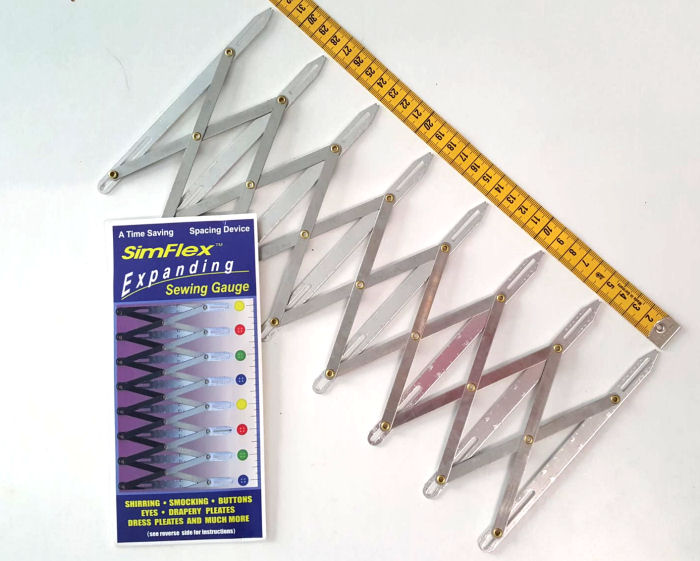 When putting in your snaps or eyelets remember the PRYM Vario Pliers and theTripod. With the Vario Pliers your squeeze the snaps in place on an even keel. And the tripod? That is a very handy tool when the poppers, eyelets, studs, rivets and other PRYM closures are put in further from the edge of the fabric.