Water soluble fleece for sewing and embroidery
Solufleece – Solufix – Solufleece tape – Wondertape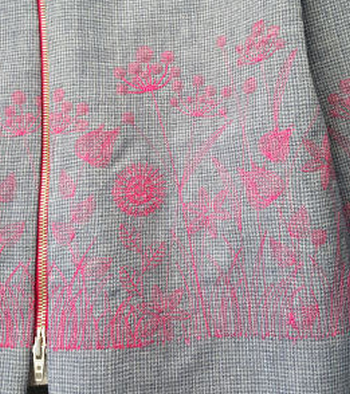 Water soluble interlining: These kinds of interfacing are made for convenience. Solufleece for example is a Vilene interlining without adhesive that desolves in water. Also available as tape, it is 2,5cm wide and saves you a lot of cutting. Solufix is like solufleece but self adhesive. And lastly Wondertape: a double sided adhesive tape by PRYM that is also water soluble. 
Water soluble vilene is made for embroidery but used cleverly suitable for so much more! 
Solufleece – rinse it out with water, it's soluble
When you are looking for a water soluble vilene interfacing, solufleece is the first choice. Solufleece is a sew in interlining which means it had no adhesive.
Ironing Solufleece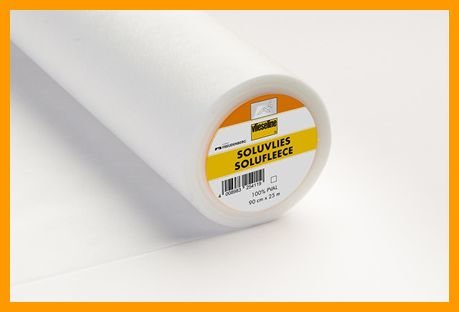 You can iron Solufleece on the nylon setting of your iron (or one dot) Are you using a steam iron do not touch the steam button because with steam Solufleece schrinks. It is a characteristic can be used creatively. Try Crushing with Solufleece. Read our blog and test it, you can make many things with this technique.
Make your own fabric? That is also possible with Solufleece! Put a piece on the table, put on woollen thread, sewing thread or left over pieces of fabric. Add another layer of solufleece and stitch the layers together well. The stitches should be close together and criss crossed over one another. Rinse out the Solufleece and you are left with a piece of fabric. Try making a small rug grom leftover fabric or use it in a garment. For example: replace a piece of the front with your solufleece fabric. That gives a really unique effect… 
Solufleece is made for embroidery but used for so much more. It is a real allrounder, try it yourself and buy your water soluble Solufleece Vilene interlining. 
Vilene Solufleece is available in 45cm and 90cm wide. We chose to sell the 90cm wide version per metre because with that width you can cover larger pieces of fabric. 
Solufleece manual
Would you like to know how to use Solufleece?
In the shop you will find the infosheet of this interlining in the attachements and the solufleece techniques can be found here:
Solufix – dissolvable fleece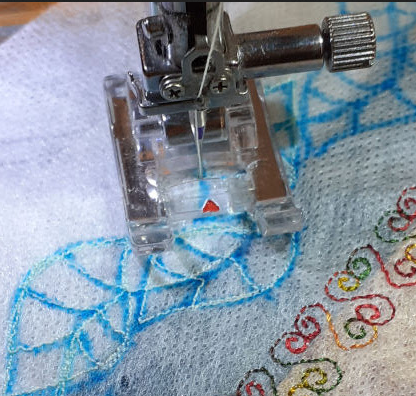 Vilene Solufix was launched after Solufleece. Because Solufleece can not be ironed on and that can be practical Vilene had created Solufix. You don't iron it on, it is self adhesive… Very handy for embroidery especially when using an embroiderymachine, you can position embroidery on a part of the garment. For example you make a skirt and at the bottom near the hem you want to place embroidery on the front piece and on the back piece. You would like to align them perfectly. This is where Solufix comes in. Stick it on and measure the points where the embroidery should go. You can draw lines etc. and you don't have to draw on the fabric, the solufix will take the lines and when your wash the Solufix away the lines will vanish as well. So stick it on, draw your lines and position it perfectly under the embroidery machine
Solufix is sold per metre of roll from our shop. It is 45cm wide. Because of the self adhesive properties it has a backing paper
Solufleece tape – hem it, wash it and it's gone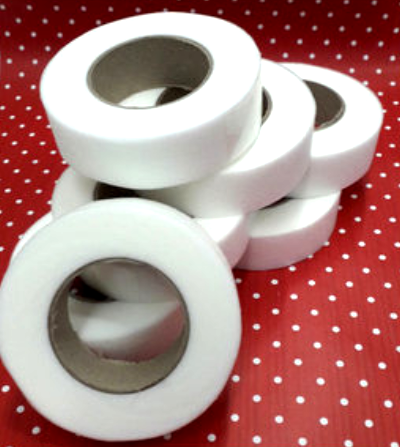 Solufleece tape is a tape by Vilene which can also be found on our Vilene – tape page. This tape is a nice helper when sewing difficult fabrics, jersey, hems in stretch fabrics and much more.
Beauty VoF has launched Soluvliesband herself: a customer remarked she would like Solufleece in tape. So we had it cut at our Vilene interlining supplier. It was an instant hit! 
How to use the water soluble Vilene Solufleece tape: The difficult fabric is placed between two layers of Solufleece tape and pinned together. Now the difficult fabric has become a simple to sew fabric so stitch the seam with ease. Can also be used with the overlocker, you cut a piece of the tape with the overlockers blade when sewing but that is not a problem…Especially with hems this can be a good way to use Solufleece tape. Make an easy rolled hem on the overlocker. 
And if you like to use a twin needle you would have seen the slight hill between the two top stitches. Use solufleece tape to prevent that as well! Just put it on top and stitch…
After using it it is simply washed or rinsed away. That is why we call it a temporary sewing aid
Wondertape – solve it!
Use wondertape in stead of pins. When sewing fragile fabrics, inserting zips, sewing hems etc. It is a double sided self adhesive tape which washes out without leaving residue. This tape is the only product on this page that is not by Vilene. This beauty is made by PRYM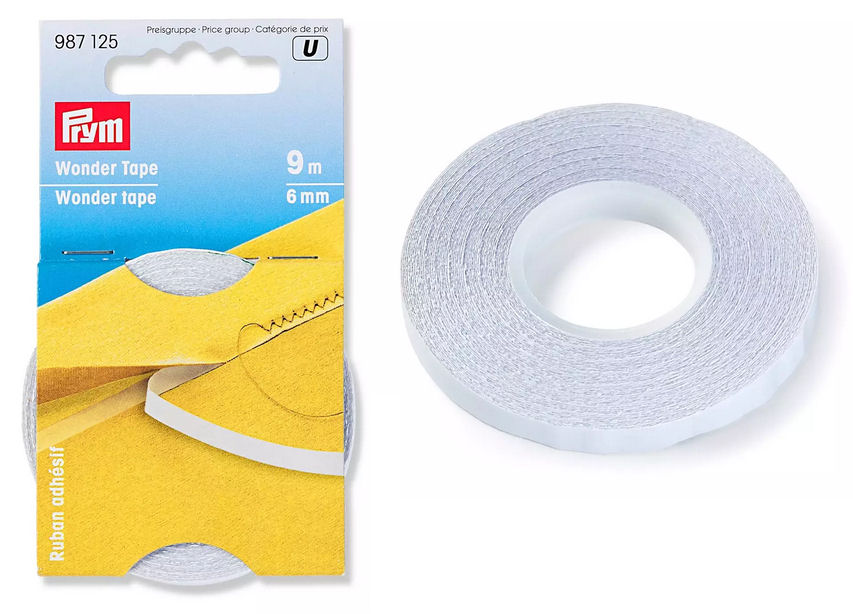 Example for using wondertape
You have probably had a similar experience like this: you are making a jacket from a thin nylon parachute fabric and every time you sew, the fabric slides away from under the sewing machine foot. Can't pin the fabric, you see the pinholes… Tape the zipper to the fabric with wondertape and sew it in easily. That's a lot simpler!
You can also stick the seams together, sew and topstitch and afterwards rinse out the wondertape. Because wondertape is also water soluble! 
Prym says about wondertape:
The transparant " Wonder Tape" offers simple an practical alternatives for the classic use of pins. The 6mm wide double sided adhesive tape fixes seams zippers, curtains and all that is normally pinned before sewing. The wonder that gives wondertape it's name happens when washing it. In the wash it desolves entirely without leaving residue. On the card is a roll with 9m wondertape and it comes with a backing paper for easy use. 
Last water soluble tip:
Are you using a water soluble vilene you can rinse it under the cold tap. You can also put the garment in the laundry basket and wash it with all the other laundry. Because the fleeces desolve entirely no residue will be left behind in the washing machine or on other laundry. This interlining is gone in a flash...