Thread that lights up in the dark
GLOW IN THE DARK!
Glow in the dark sewing and embroidery thread
PolyGlow
PolyGlow – glow in the dark is a thread you can use for sewing and embroidery. This thread is made by Amann Group Mettler and has one colour: white… but wait until the light goes out… it is GREEN all of a sudden!
Very nice when used for a bag with embroidery of a garment that you topstitch with it. Create fun childrens clothing of sportswear. For example for joggers of cyclists. You can even embroider monograms and logo's with it!
And what about partyoutfits for carnaval etc. Or celebrate halloween with an embroidered pumpkin on your front door… 
With PolyGlow you'll create beautifull clothing and bags and because it glows in the dark you will be seen
The possibilities are endless. So create away with Mettler Polyglow
---
POLYGLOW is made from 50% PBT ( Polybutylene terephthalate ) and 50% PP ( Polypropylene )
You can wash it at 60 degreed and even dry it in the dryer. Ironing can be done at the low setting of one dot or nylon
There is a 100m of thread on the spool and it's nm 40. NM 40 is a thickness designation for embroidery thread. Would you like to compare it with sewing thread?  Universal sewing thread Seralon (also by Mettler) is nm 100 and that is the same thickness as nm 40 in embroiderythread…
POLY GLOW is a phosphorescent washable embroidery and topstitching thread that stores UV-light and artificial light. That results in seams or embroideries which glow in the dark. This thread is extremely suitable for special effects on sports, childrens, and casual clothing, bags and schoolbagd. Also for embroidering monograms and logo's.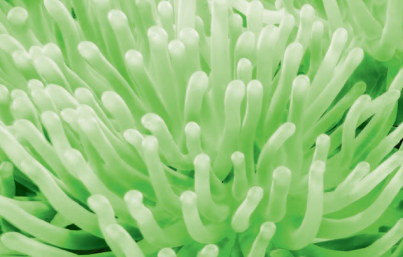 Product characteristics:
Extraordinary luminosity In the dark, the thread unfolds its beautiful, green luminosity. The intensity of luminosity depends on the duration of exposure to light.
Optimal sewability The thread is very suitable for standard embroidery and sewing machines. We recommend to reduce  machine speed and thread tension if necessary.
POLY GLOW IS CERTIFIED: OEKO-TEX STANDAARD 100
The polyglow thread has no colour chart because it is available in one colour only: white. There is however productinfo and that is what you will find on our page with colour charts