Estimated reading time: 7 minutes
Vilene G405, how to apply it and what to use it for. On this page you can read a short text what kind of garments and fabrics it is suitable for. At the end is the infosheet with all info on this type of Vilene interlining. Read it or download it for future use
Also on this page: a couple of pictures of clothes that can be made with G405. This will give you an idea to it's possibilities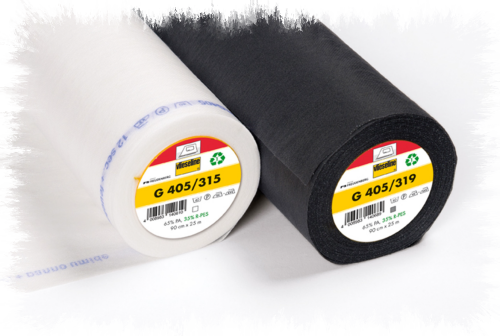 Using Vilene G405
G405 is a heavier interlining, that is why it is commonly used in jackets and coats. But it can also be used for cuffs, collars and piping. Especially when your fabric needs a bit more reinforcement than usual.
Suppose you are sewing a dress made from a very flowy material and you want your facing to lay flat on the neckline. Vilene G405 will be a great interlining for that. Check the infosheet if the ironing temperature corresponds with your fabric before you order. G405 is sturdy without being stiff. Supple enough to avoid a cardboard feel. A great in between…
Vilene G405 has a soft touch finish, this is a result of the raw materials: 35% recycled polyester and 65% polyamide. This combination gives the soft grip of this interlining.
Is this the Vilene interlining for you or are you not certain yet? Read our Vilene interlining choosing aid for a guide…
Garments suitable for G405
Here you find a couple of pictures of people in different garments. All these are suitable for Vilene G405. As you can see it is a versatile one!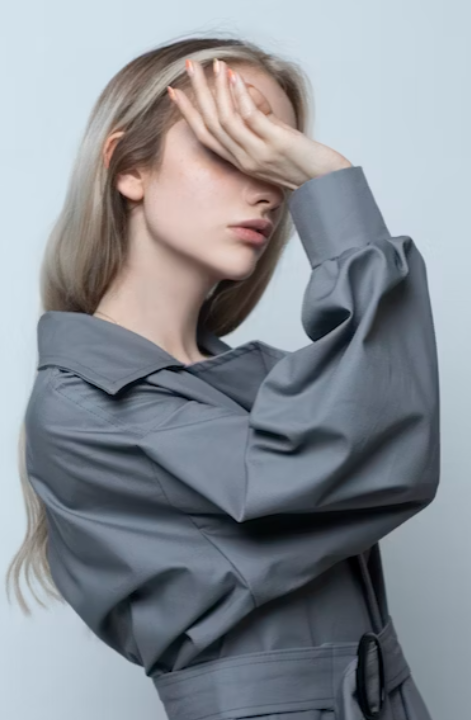 Fabrics suitable for G405
G405 vilene is suitable for thin to middle heavy fabrics like woollen coat fabric of a wool polyester blend. Also for gaberdine for a dress or pants and you can use it for jersey or silk.
This last one is a little unexpected, a heavier interlining in silk fabric. But because it's grip is somewhat voluminous it can be a great choice for silk. Silk is a "flat" fabric that does not have a lot of volume on it's own. If it could use a little something try G40.
Like always when choosing interlining it is important to test it on a left over piece of fabric. You can see if you have made the right choice. Choosing interlining is not an exact science ultimately…
When applying G405 on jersey it will make it non-stretch. If that is what you want it is great, if not choose one of the stretch vilenes instead…
Vilene G405 is available in black and white and it is 90cm wide. We sell it per metre and on a roll of 25m. When you buy per metre check out the tierprices. If you should need 4 metres you might want to order 5m at a reduced price. When you are goning to sew multiple garments using the same interlining you can buy a little more in one go. From 10 metres the price is even better and per roll is the cheapest metre price. On a roll there is 25m, maybe a bit much but maybe you can share it with a sewing friend of your students.
If you choose to use G405
Made your choice and wnat to test it first? Order a sample and test it on a scrap of fabric. Check out the infosheet for how to iron it onto the cloth. Samples are 10x10cm, when you use half for the test you can keep the other half for future reference.
G405 infosheet manual NL
How do you iron on vilene G405? Read the dutch infosheet below or scroll on to the english version
G405 infosheet EN
The english infosheet of vilene G405 below