Is the blade of your rotary cutter blunt?
Sharpen it professionally with this rotary cutter sharpener!
With the professional rotary cutter sharpener you use your blades longer and better.
A rotary cutter is a great tool for sewing but it will become blunt. Do you use the rotary cutter frequently or roll it over a pin (oops!) at some point it will be end of story. A blunt blade will not cut your fabric or interlining correctly. It will skip over some parts and you have to cut again or use scissors. Now that is history!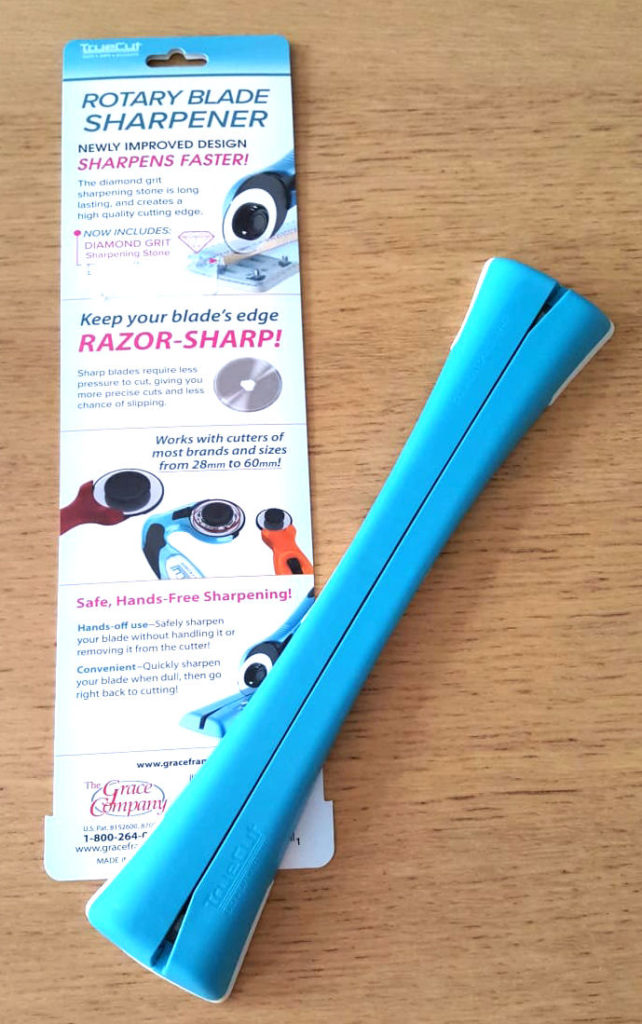 With this professional sharpener you can quickly sharpen your rotary cutter blade. The long sharpener has rubber feet to keep uit on the table. Is your blade blunt? Take the sharpener and roll the blade through. Once forward and once backward is enough to sharpen a slightly blunt blade. Is your blade extremely blunt do it a few times… 
In the sharpener you will find a diamond grit sharpening stone. With this stone you can sharpen quickly. When you pull the rotary cutter through the sharpener it feels like you pull it between two layers of sandpaper. The diamond grit is fine enough to get a fine result and course enough to sharpen with speed.
You can sharpen all rotary cutters with it, wether you have a clover rotary cutter of 45mm or an olfa by PRYM that is 28mm. Even the 60mm blade can be sharpened using this sharpener.
Using a rotary cutter and sharpener
A rotary cutter is used for cutting fabric and interfacing. Especially thin Vilene interlining. Cutting this with scissors will mostly result in a ragged edge, use a rotary cutter and it will be straighter. 
How often you sharpen your blade is up to you. You can drag your cutter through the sharpener after each use or when you notice it does not cut well anymore.
Use the rotary cutter in combination with a cutting mat. This mat will be positioned under your fabric and protect your table. A good ruler will also come in handy. Choose an omnigrid quilting ruler or an aluminium ruler that will last you a lifetime. 
Which ruler to choose?
The advantage of the omnigrid quitling ruler is that is see through with multiple lines on it. If you want to cut a lot of fabric strips this one will be easy to use. Because of the lines you can push it up the fabric and cut again. This ruler is not called quilting ruler for nothing because when quilting you often cut strips or small pieces of fabric.
Aluminium rulers are used in pattern making but are also perfect to cut along. When you use a wooden ruler you can accidentally cut of a piece of wood, making the ruler not straight anymore. The aluminium version won't do that. It will last you a lifetime of pattern making and cutting fabric. 
Cutting mat sizes
The different sizea available in cutting mats are quite far apart. The biggest one is 60x90cm and the smallest about A4. Which one you choose depends on the size of your table and what you cut on the mat. Are you someone who sews a lot of garments you will probably have a cutting tabel where the 60x90cm version will fit on. That size is the best one for larger pieces like fronts or sleeves. It keeps you from having to move the fabric when cutting. 
Are you a quilter? You will use a lot of small pieces of fabric, in that case a smaller cutting mat is all you need.