Estimated readingtime: 5 minutes
We often receive questions about vlieseline, hence this FAQ Vlieseline and interlining page.
Is your question not listed? Please contact us, see the footer. Also for tailor-made advice on vlieseline choice
And would you like to read more about this extensive subject? At the bottom of this page you will find a number of links…
FAQ 1. Ironing vilene interlining, how do you do that?
interlining is available in different types. So you first check the information sheet to see how hot the iron should be and how long you should fuse it for. You will also find there whether or not you should use moisture.
Next, place the fabric right side down on the ironing board and place the interfacing with the coating side down on top. Now you can iron on your interfacing according to the instructions in the information sheet.
For more information, see this page: https:/ /beautyvof.com/vlieseline-manual-golden-rules/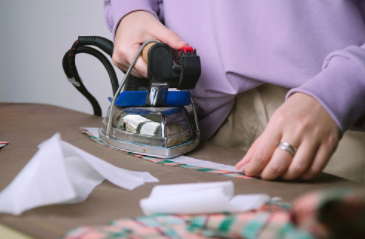 FAQ 2. Which side is ironed on, on the interfacing?
You are ironing the non-woven of woven interfacing on the side without glue / coating.
How do you know which side the coating is on? The easiest thing to do is to feel it, because the coating usually feels a bit rough and the side without a coating is smoother, so you will notice the difference. You can also see it, best if you shine the light over it at an angle. So the shiny side is the side with glue…
FAQ 3. Vilene and interfacing ironing temperature
Each fusible viline or interlining has its own iron-on instructions. The temperature of the iron is usually wool to cotton. The wool setting (2 dots) is most common with interfacings made from polyester, for example a fusable cotton can often be ironed hotter (cotton – 3 dots). There are also special vilenes for delicate fabrics. The LE420 is suitable for leather and artificial materials, so you only need to use the nylon setting or 1 point…
More about ironing temperature of vilene and interlining
FAQ 4. Which interfacing for bags?
A bag usually needs more strength than a piece of clothing. So there are special types of non-woven material for that. My favorite is decovil and its brother decovil light. These two are sturdy enough for a standing bag, depending on your fabric and model you can choose the decovil or the light version. Style vil is also a beautiful bag fleece because it is voluminous yet flexible…
Would you like to know more about the different types? Read the blog about Vilene interlining for bags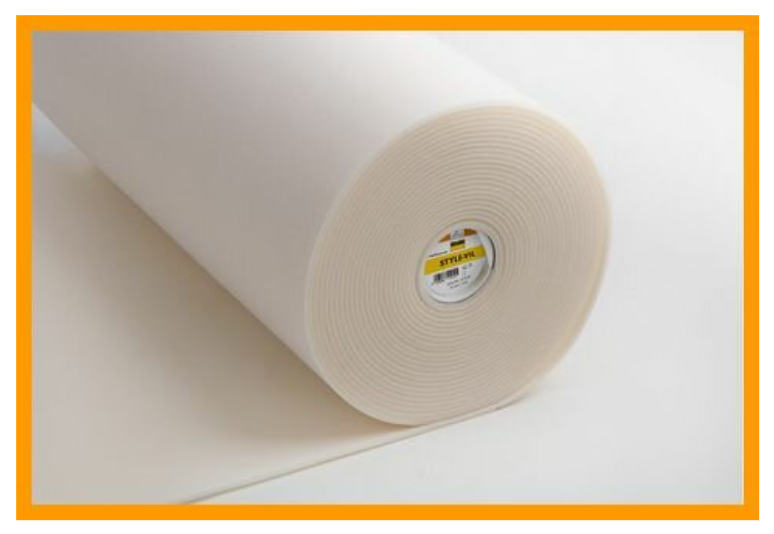 FAQ 5. Reinforcing fabric without vilene interfacing?
Before there was interfacing, they used e.g. a cotton inner lining. Just like nowadays in a wedding dress you often have a firm bodice inside the dress. And you can strengthen it extra with whalebones. There are also other interlinings such as horsehair that you sew to the fabric by hand. So you see, fabric reinforcement can also be done without vilene
Read more about: Wedding dress Vlieseline and Haberdashery
FAQ 6. < em>What does vilene mean?
Vilene is a brand name of the Freudenberg company. They make interlining for the consumer market under the name vlieseline or vilene. Nowadays, vilene or vlieseline is a synonym for interlining. All vilene / vlieseline are interlinings, but not all interlinings are interlinings from Vilene / vlieseline…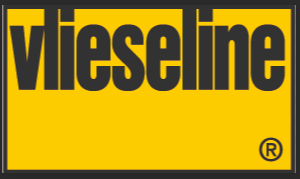 FAQ 7. What do you use interfacing for?
To make fabrics stronger. You fuse it on the inside of the fabric. You usually use a sturdier type for a jacket than for a blouse, sounds logical, right? In bags, on the other hand, the interfacing is even sturdier, so there are special types for that.
Here you will find more information about how to choose the right type: Vilene interlining choosing Aid
FAQ 8.How do you use interfacing?
Switch on the iron and set it to the correct temperature. Place the interfacing on your fabric (on the wrong side) and iron it in place. You do most types step by step because you move your interfacing with an ironing motion while fusing.
View the information sheet of the type you have chosen for the instructions for that interfacing
Read more about this topic: Choosing vilene and instructions for use
FAQ 9. What is interfacing made of?
The raw materials vary from polyester ( whether or not recycled) to polyamide, cotton, wool, etc. The non-woven fleeces are made of a "poly" and the woven ones differ considerably, e.g. adhesive cotton is made of cotton and the G785 is made of polyester. A stretch vilene interlining usually has elastane in it to make it stretchable.
To view your raw materials, go to the info sheet of the vilene or interlining: Vilene interlining Selection and instructions for use
That concludes this FAQ – Vlieseline and interlining… And do you have any questions? Please contact us for more information or tailor-made advice. See the footer for our contact information.