Table of contents
What is a blind zip?
A blind zip is an invisible zip. Well almost invisible because you see the puller but that is it. Blind zips are closed end because they are meant for skirts, trousers and dresses. Also common in bridal gowns. Read on at the header invisible zip for bridal gown for the special invisible zips for brides dressed Invisible zips are available in different sizes, from 22 up to 60cm. Some are 80cm long but that is not common. The length of 22cm is used for skirts and trousers. Is your invisible zip longer? It will probably be for a dress… Between 22 and 60 are some other lengths: Blind zip 30cm, blind zip 40cm and blind zip 50cm.
Inserting an invisible blind zip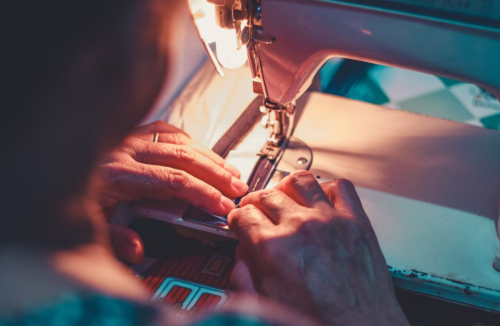 Blind or invisible zipper black or a different colour
Are you looking for a black blind zipper or do you prefer a different colour? Ofcourse we sell invisible zips in black and ofwhite for the bridal gown but sometimes you want a more colourfull one. Most colours are available in 22 or 60cm long.

You can check out the color chart of zippers on the
Color charts
page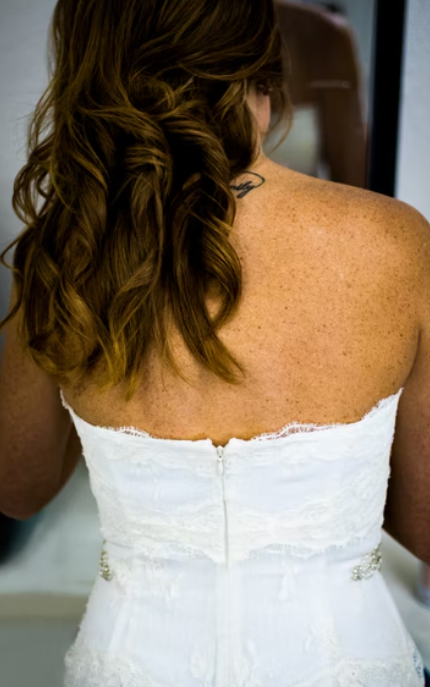 Invisible or blind zip for a bridal gown
One of our top sellers in the zips assortment is the blind zip specially for bridal gowns. With this a little sturdier blind zip you have extra security with dresses that are skintight like wedding dresses. So if you have put on a little weight and your dress is a little tighter? No problem, this zip can handle it In a brides dress there usually is a heavy corset like interlining body and
boning
is also used often. All those layers make it heavier and formfitting, the zipper will have to be stronger than with a normal dress. Our extra strong blind zip is size 56. Larger and sturdier than the standard blind zip You would not want a wardrobe malfunction on your big day? That can be prevented with good kwality haberdasheries…
Buy an invisible zipper
If you check out the internet when you want to purchase an invisible zip you will find a lot of different sellers. Brandless invisible zips can be fine but a real invisible zipper by YKK is of superiour quality. You would not want to replace the zip on a just finished garment, right? So buy a good one! And should you choose our shop for your blind zip you will recieve one with a sturdier tape than usually. Ours have a twill-like woven tape that is firmer than the usual jersey knitted-like tape of the cheap zips. Our standard size (width of the teeth) is 34 as opposed to the cheaper ones that are size 26. So they are a little bigger wich helps to keep them whole too…
Shortening your invisible zip
When inserting an invisible zip is can be longer than you need. Not all colours can be bought in all lengths, problem? Not at all, a blind zipper is easily shortened.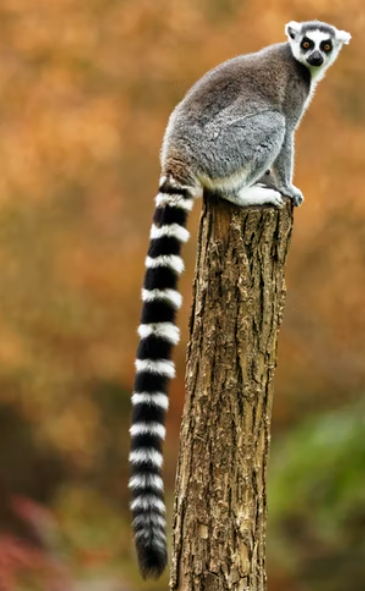 If you insert the zip like mentioned on the page at the button below, this is how it works: first you choose the length it should be and measure it on the zipper or the back piece whatever you prefer. I usually insert a pin on both sides of the zippertape or the fabric. After sewing you will have a tail left. You always have a little tail but if the zip is too long it will be a lot bigger. So what you do is you cut of the tail, about 5cm from where you stopped sewing. Sew the tail to the seam and it is secure, see step 10 on the how to page.
RPut on a zipper on a blind zip when it had come off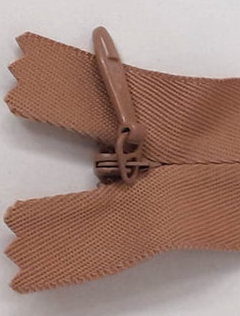 Sometimes you accidentally pull off the puller or it is broken and you want to put on a new one. With an invisible zip that is the easiest from the bottom. You see two pieces of zippertape which are connected with plastic. Cut between the two tapes with a sturdy pair of scissors or side cutting pliers. Now you have "destroyed the the closed end part of the zip". Mostly there will be a large piece of plastic left on one of the tapes, if you cut that off, the new puller will be more easy to put on. Test the puller on each side separately. Does it go on well? Good, next step! This will be a bit tricky, put on the puller on one side, up until it is close to the spiral but not on the spiral. Put in the other side of the tape and hold the ends at the same height at the bottom. Nor pull up the puller. Wiggle it a bit, because it will not want to cooperate… Yes, it is not the easiest task and it will go wrong a few times, but keep on it you will get it eventually!
Estimated readingtime: 9 minutes