When you are sewing garments you do not always want to iron the seams with Vilene seamtape. Sometimes you just want to sew it in. Use
sew in seam tape
or shoelace tape. Sew in seam tape is made from 100% cotton and it's nice and thin. It is also narrow, 5mm wide and that makes it suitable for many different applications. The most common use is in shoulder seams of T-shirts to keep them from stretching. Because the tape is so thin and narrow you do not feel it when you wear the T-shirt. Another great thing about the sew in seamtape is that it is not visible on the outside of the piece of clothing.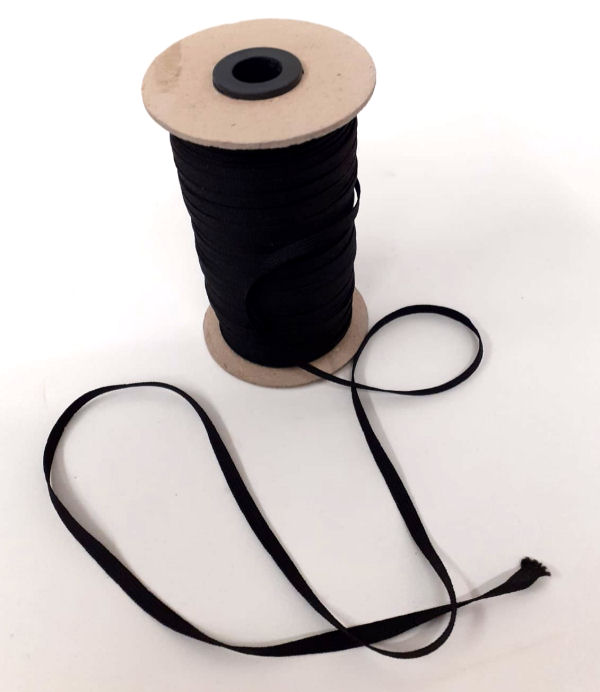 Sew in seam tape is back in stock!
The beautiful thin and narrow cotton sew in seam tape is back in stock. We can ship it to you quickly. This great sew in tape is moslty purchased in white but black is also a handy colour to have lying around. Therefore we have bought a lot of white and a few rolls in black. We sell the sew in seam tape op a roll of 100m for the major consumer or a bag with 10m for someone who wants a little less metres.
Other uses for sew in seam tape – shoelace tape:
Towel loops
Loops in shirts sewn into the waistband for hanging them in your closet
Shoulder seams and all other seams in T-shirts and different stretch fabrics
All kinds of seams in non-stretch fabrics, especially when the seams are cut on the bias
In the waistline of pants or skirts with a roundly shaped waistline (without a straight waistband)
Babyclothing
Seam tape for fabrics that you can not iron of coarsely woven fabric
In short: Sew in seam tape is a seam tape and more which you can use for a variety of applications, this is an allround sew in tape!