Estimated redingtime: 3 minutes
A new zipper for the windcatcher of your convertible car. Another original question! We normally sell zips for clothing and bags. But lately we get different questions, a while ago a zipper for an album cover, now a windcatcher…
What does a windcatcher look like? Below you will see a picture of the windcatcher with the new zipper. The yellow box contains the new zip and to the left you see a second zip. That was not replaced but a little discoloured. That is being solved so the car will look like it should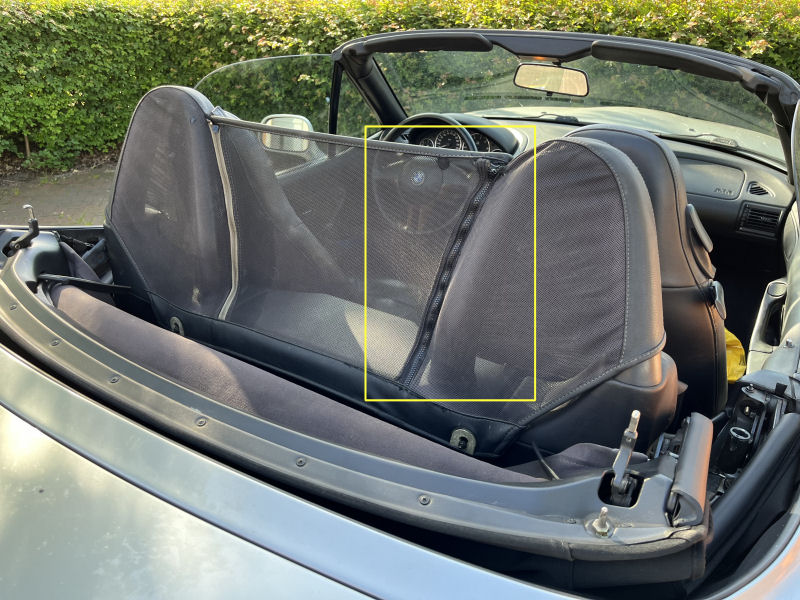 Choosing a new zip for the windcatcher car
How did we choose the zipper? Buy emailing back and forth. The customer explained what it was he needed and together we came to this zip
The windcatcher is attached to a car so it wil get whet from time to time. Choosing a plastic zipper was an easy one because a zip with metal teeth can oxidise and it will inhibit the working of the zip.
The strength of the teeth is also something we looked at. The blocktooth zippers teeth interlock really well. The spiral tooth zipper is a little less interlocking, that is why we chose blocktooth.
If you look closelt you can see the slider of the zip at the top and the bottom of the zip dissapears into the fabric. Therefore this zip is a closed end one and you would like to have that again for the windcatcher of the car. Most zippers that are a stronger are only sold in open end, so we shortened it with a bottomstop. It takes a little time and effort but can be done. This customer choose to have us do the shortening.
Would you like to shorten a sip yourself?
Check out these pages on how to shorten your zipper or watch the video's on the same pages
We also supplied strong sewing thread by Amann Group Mettler. Saba number 30 in black. The choice for this type was made simply because it is in stock, strong thread and made from polyester. Cotton sewing thread is not suitable for outside use…
Another succes story with this original zipper in windcatcher of a car
Would you like to order a zipper or strong thread yourself? You can find everything in our webshop: