---
Sale Amann Mettler garens! Omdat Amann group Mettler zoveel prachtige soorten naaigaren, lockgaren en doorstik- of siergaren verkoopt willen wij met deze aanbieding iedereen overhalen om het uit te proberen of hun voorraad aan te vullen.
Ben je een nieuwe Amann Mettler fan? Dan kun je nu van de verschillende soorten klosjes kopen met korting en het goed uitproberen. Seralon universeel naaigaren is het standaard naaigaren maar heb je wel eens gewerkt met Seraflex? Dit rekbare stretch naaigaren is uitermate geschikt voor tricot en stretch stoffen. Of Poly GLOW. Een wit garen dat in het donker oplicht tot groen! Lekker mee experimenteren dus…
Al langer fan van de kwaliteit van Amann group Mettler garen? Dan is nu hét moment om je voorraad aan te vullen voor de zomer. Lees verder voor alle soorten die in de aanbieding zijn…
---
Alleen de maand mei 2022:
10% korting op veel Amann Group Mettler garen
En wel 33% op de Seralon universeel naaigaren 200m
Zolang de voorraad strekt, dus wees er snel bij en vul je garenkast!
---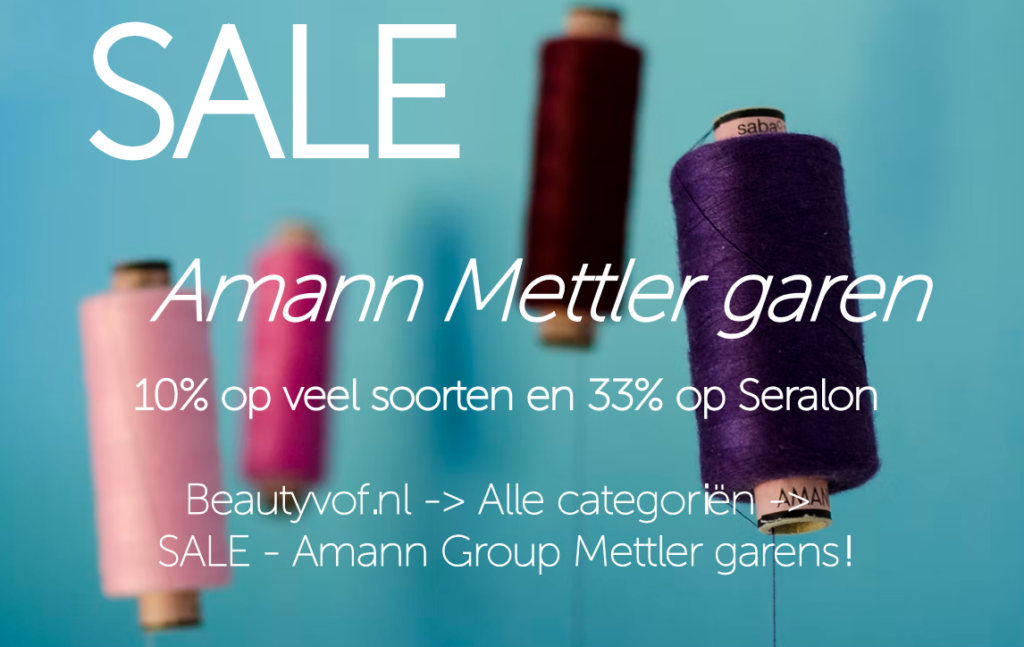 Bestel de volgende klosjes met 10% korting in de SALE – Amann Mettler garens:
Seralon – universeel polyester naaigaren klos 500m
Transfil – transparant naaigaren in licht en donker
Seracycle – hét duurzame universele polyester naaigaren (100% gerecycled)
Seraflex – Fantastisch Elastisch – rekbaar stretch naaigaren
Seraflock – Polyester mousse overlockgaren voor afwerken van rekbare stretchstoffen
Polycore cotton denim doc – Naai en doorstikgaren met polyester kern en omsponnen met katoen, prachtig voor een zomerse jeans!
Amanda naaizijde – 100% zijde garen per klosje van 30m
Saba dikte 120 – polyester universeel naaigaren op grote klos van 1000m
Sabagaren dikte 30 – polyester knoopsgatgaren of doorstikgaren op grote klos van 300m
Saba dikte 50 – polyester doorstikgaren op grote klos van 500m (ook geschikt voor knoopsgaten en gemakkelijker mee te naaien dan dikte 30)
PolyGLOW – glow in the dark naaigaren dat groen oplicht in het donker
Polysheen – glimmend borduurgaren of siergaren op grote klossen van 800m
Bestel Seralon universeel naaigaren klosjes van 200m met zelfs 33% korting in de SALE – Amann Mettler garens!
Bij Seralon 200m geldt een minimale afname van 5 klosjes voor de korting van 33% maar wees gerust: je mag 5 verschillende kleuren kiezen!