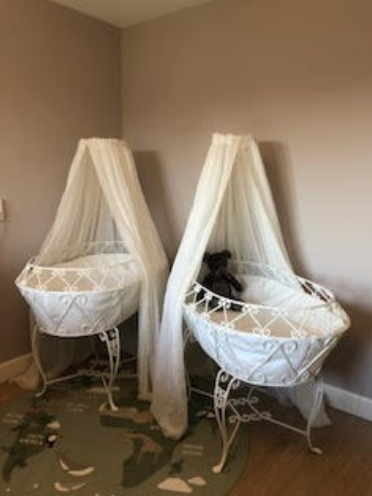 Expecting your first child or becoming a grandma? What says "I love you baby" better than a recovered crib or cot that you used as a baby? There are a lot of possibilities in covering baby cradles. We get a lot of questions from women about cot covers. It's a fun subject to answer questions about.
Read the story of a soon to be grandma who is very happy with her newly covered cribs!
The telphone rang… A customer on the line. She was going to be a grandma soon of twins. So she needed two cots. It's not an everyday occupation to re-cover cradles, and she had a lot of questions going around in her head.
Covering a baby cradle
What kind of fabric is suitable?
What kind of interlining do I require?
What about batting?
And boning, which are suited and how do I process these?
Fortunately Annette is close at hand! Pick up the phone and ask her everything you want to know, she is happy to help you.
Annette says:
This story started with an email. In this email the main question was: "What interlining can I use for a new cover for a baby cradle. Gerda emailed that she would be a grandma to twins soon, She had bought these two metal cots that she wanted to re-cover. There were a few questions, one being about the interlining she needed. She had some ideas and wished regarding the use of boning. Because the cots are made of metal she wanted to protect her grandchildren from the hard metal by covering the sides of the cradles. She had bought a nice white cotton fabric without any print because of the allready busy design of the cribs. With this pure white cotton base fabric, the choice for the interlining was an easy one. I asked her if she wanted Fusible Cotton Interfacing to increase the firmness of the fabric or a bit of padding too. It has to be of natural material, because of the rapid burn rate of materials like Polyester. In cotton the choices are:
In the end we decided on the Cotton batting by Vilene for the crib cover. Used on the inside of the cot for a soft interior without making it too voluminous. (The Soyamix is less suitable because of the color. Soyamix is cream colored and will make the pure white fabric appear less white) Then we decided on boning for the top op the crib. As you can see in the foto, the cot is wider on top than on the bottom. The boning is placed in the widest part of the cot to keep it in shape. Gerda didn't need a pattern, for that she used the old cover which she took apart. That is a normal thing to do when re-covering an old cradle The final part of the story was the email I got from her with de foto's of the finished cots with her thanks for the good advice. That was very nice, because I hardly ever get to see the end result. Great job Gerda!
Cover for baby cradle safety standards – is a cover for baby cradle safe?
Are you covering a rotan cradle or one made of metal or wood, there are a few things to consider:
A cover for a baby cradle is allways made of cotton, including the interfacing or batting that you use, why? Polyester burns rapidly and sticks to your skin. What if your baby is in the cradle and your house is on fire. If you have covered the cradle with polyester fabric you have very little time to get your baby safely out. Cotton and other fabrics made of natural materials don't burn as fast, they smolder. That gives you more time to save your child. Hopefully no one has to go throw that, but if it happens you will have the best possible chance for a good ending!
Do not make the cover to thick, especially the sides because the air circulation must be optimal in a cot. Your baby should be able to breathe with ease
There are safety regulations for baby cradles, check the internet on the current regulations and see if your cot meets the requirements.
Cleaning a cover for baby cradle
When you buy a cover for a cot you have a label with washing instructions. If you make your own you will not have that. The fabric used for the cover is allways cotton which can be machine washed on 30 degrees celsius. Buy your interfacing or batting with us and you will have the added benefit of our Infosheets. All interfacings in our shop have an infosheet in the attachment tab. The Infosheet has all the information you need! It has washing instructions, fusing instructions, composition, etc.