Summer! The time to sew T-shirts from jersey, or that little summerdress. Maybe you prefer to sew a pair of pants from stretch cotton? No matter the stretch fabric in your fabric box,
Seraflex is thé sewing thread for elastic, stretch fabrics!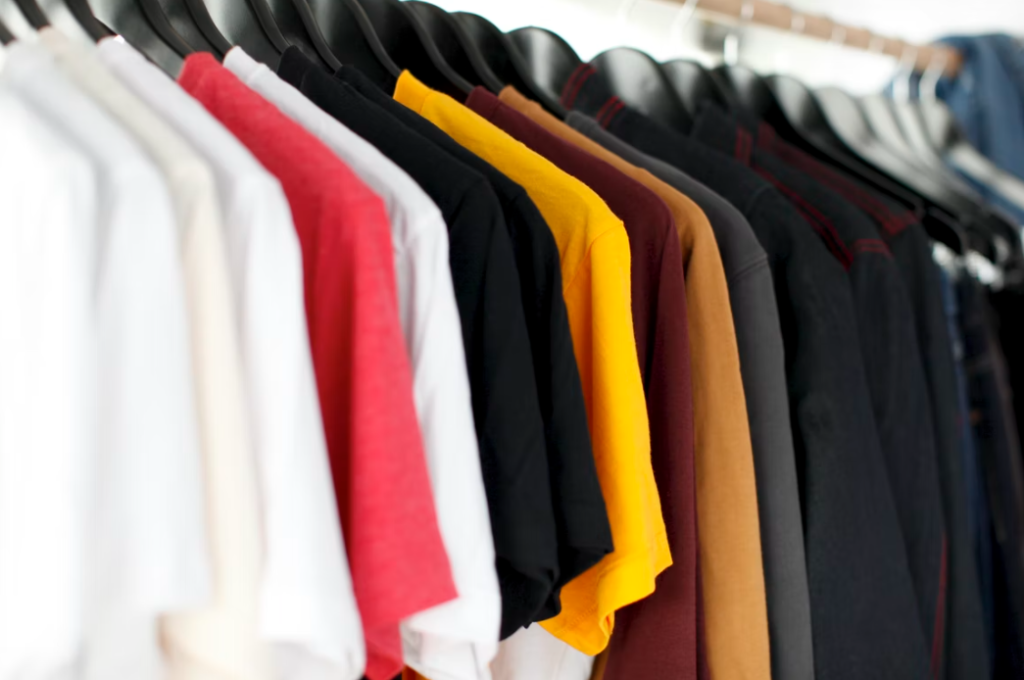 Because Seraflex elastic stretch sewing thread is elastic it behaves a little differently than universal sewing thread. Therefore here some tips to work with Seraflex well.
First some facts about Seraflex jersey sewing thread:
You can sew jersey, lingeriefabrics, lycra and other stretch fabrics with a straight stitch while keeping the elasticity. Up to 60%
Very suitable as sewing thread for sportswear, outdoor, womensclothing, mens and childrensclothing and ofcourse underwear and lingerie
No stretchstitch neccesary
You will reduce the amount of sewing thread used up to 80% when using seraflex with a straight stitch
With Seraflex as double stitch (or twin needle) you can replace the normal overlocking stitch
Available in 72 colours
You retain 60 to 80% of the stretch
You can use seraflex for sideseams, hems, attaching cuff fabric and more
Seraflex – fantastic elastic sewing thread – Tips & Tricks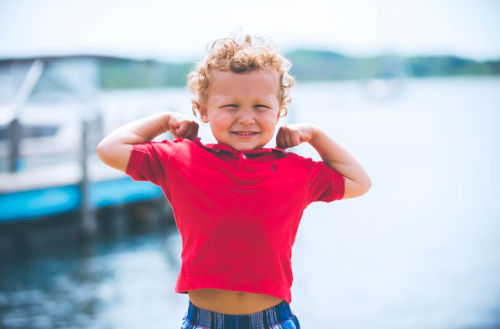 This beautiful stretch sewing thread is wonderfull for all your stretch fabrics, but how to use it optimally? Keep in mind that the thread stretches. Say you are sewing with an elastic thread in the bobbin to create a puckered effect. You will wind up the elastic thread, that is in fact a thin cordlike elastic, loosely around the bobbin. Why? When you wind it tight you will remove the stretch before sewing with it and that will disrupt the puckered effect. The same can be said for elastic sewingthread like seraflex!
For the top tension the same is true. The thread need not be to tight between the tension disks otherwise it will be stretched to max before even sewing anything. Read on for the way to set your sewing machine for Seraflex elastic stretch sewing thread
Sewing instructions for Seraflex elastic stretch sewing thread
Follow the points below for a fantastic elastic result
Loossen top tension (approx. at 2)
Adjust stitchlength to 3 to 3,5
Hold the spool when threading the sewingmachine. The thread will easily come of the spool
Make sure to have a low bobbin tension(under tension) Wind the bobbin by hand or bij machine without using the tension discs to feed it through
Use it for the top and the bottom thread
Stretch sewing machine needle of jersey needle of size 70 or 80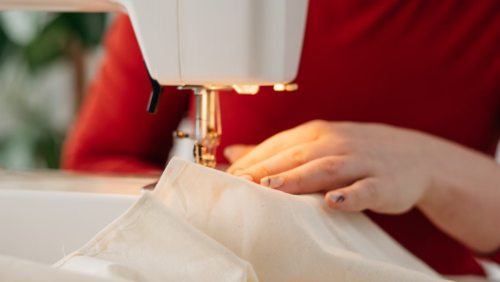 The last point on the list says stretch or jersey needles, but wich one to use for what? It is really simple actually: a jersey needle is meant for knitted fabrics like jersey. Look at it really closely and you can see it. Stretch needles are made for wove stretch fabrics. For example a denim with stretch. Denim is made from cotton and if it is stretchy the manufacturer has added a few percent elastan. They have created a stretch thread and woven your fabric with it.
Estimated readingtime: 5 minutes
Answering your questions
Welk garen voor stretchstof?
You can choose a stretch sewing thread like seraflex and stitch straight while keeping the elasticity. When using universal sewingthread, be sure to use a polyester thread and use a stretch stitch or a zigzagstitch. Cotton thread can be used but be sure to choose one of quality made by a great supplier like Amann Group Mettler. With the silk finish cotton by Mettler you can even sew lingerie. (be sure to use a stretch stitch)
How to use elastic sewing thread?
When using seraflex elastic sewing thread, use it at the top and bottom with looser tension than with universal thread. See our user manual. When sewing with an elastic underthread for a puckered effect use the elastic cord-like thread at the botton and wind it loosely by hand.
How to hem jersey?
You can hem jersey with a twin needle or coverlockmachine. With a twin needle you will get two straight topstitches and a zigzag below. The coverlocker will make a nice coverlock stitch like you see in bought T-shirts. Or you could fuse your stretch hem with stretchfix hemtape of 3cm wide. This hemtape is stretchy and gives a nice taut endresult.
How to stitch stretchfabric?
Stitching stretchfabric with a straight stitch is done with seraflex elastic sewing thread. Use a stretch or jersey needle. Read our manual for an optimal result
How to use seraflex thread?
Use a sewingmachine neelde for stretch or jersey in size 70 or 80. Toptension looser, approx 2. Stitchlength 3 – 3,5. Wind bobbin loosely. Use it at the top and the bottom for an optimal result. Seams sewn with seraflex elastic sewing thread retain up to 6-% elasticity!
What is seraflex thread?
Seraflex is a fantastic elastic sewing thread suitable for jersey and stretch fabrics like stretch denim. Use it for womensclothing, mens- and childrensclothing of stretch fabrics. Outdoor, casula, sports and work attire. Also suitable for underwear and lingerie!