Geschatte leestijd:
4
minuten
Contents
Searching for an original gift for creative people who sew, quilt, make bags, patchwork, make hats or dolls? Click here!
As gift inspiration we have a special category in our shop named:
Giftcards and gifts
Here you will find nice and interesting gift ideas for nifty people that like to sew.
Direct naar Cadeaubonnen en cadeaus
Lots of people like receiving gadgets for a gift like for example the
Simflex expanding sewing gauge
For other cool tools to keep by the sewingmachine, click here
Can't find a good gadget, what about
stretchable hemtape
or
flexible edgetape
or
formtape for round edges
! Are you looking for a small gift as an addition to the gift pile? What about a
Vanishing pen or a aquamarker?
Stil not sure what to choose. No problem, we also have giftcards! Get a digital giftcard or a paper giftcard.
Giftcard
For an original gift get them a personalized giftcard! Order the giftcard with the desired value, choose the appropriate supplementary sheet, add your personal message, make a payment and we will make sure your message is printed on the giftcard and sent by mail.
Prefer a digital giftcard? We also have those! It works just like the paper giftcard:
Choose your digital giftcard
Add the desired supplementary sheet
Add your personal message
Tell us what email adress your would like us to send it to
Order the giftcard and make the payment
We will make sure the recipient has a nice day by emailing the digital giftcard with personal message.
(We only use the email adress one time to send the giftcard)
Special giftcard
Make the giftcard special by adding a supplementary sheet and let us print a personal message on it. We have supplementary sheets for Christmas, Saint Nicolas (dutch holiday 5th of December), Mother's Day, Valentine's Day and Birthdays. Would you like a different supplementary sheet, please let us know and we will do our best to make you happy.
Gift ideas for you?
Are you the one who is creative and have a Birthday coming up or maybe for Christmas? Make your Wishlist in our shop and send it directly to friends and family or Santa Claus…
Go to the shop, log in (or create a log in), put your favorites on the Wishlist and share via email. You can make more than one Wishlist, name your Wishlist and add your own text in the email to inform the recipients of the reason why they are receiving this email.
Wishlist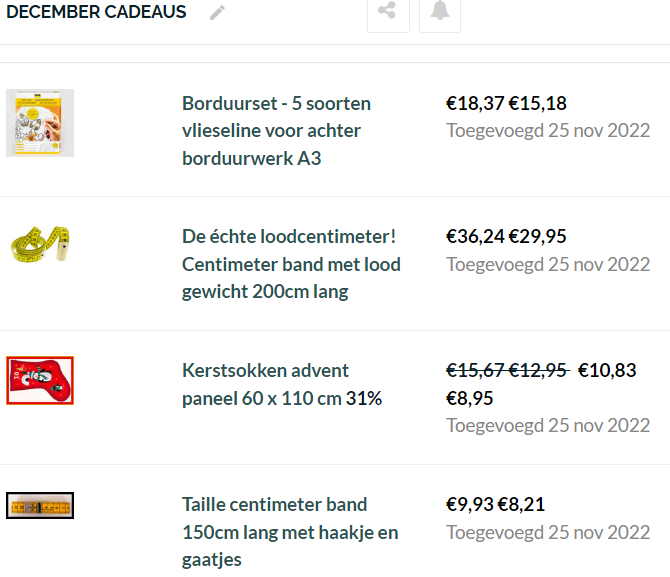 This Wishlist is named December cadeaus. (December Gifts) Behind the nam you will see the icon for Edit in grey, next is the Share icon and the third icon is the Bell. Do you wish to shere your Wishlist, please use the second icon. The Bell icon is used when you add a product on your list that is not in stock at the time. Use the Bell to receive a notification when new stock has arrived. Now you can order the product. When you click on Share you will see this. Here you can add a message and the email adresses of the recipients of your personal Wishlist.
Don't worry, we don't save these adresses!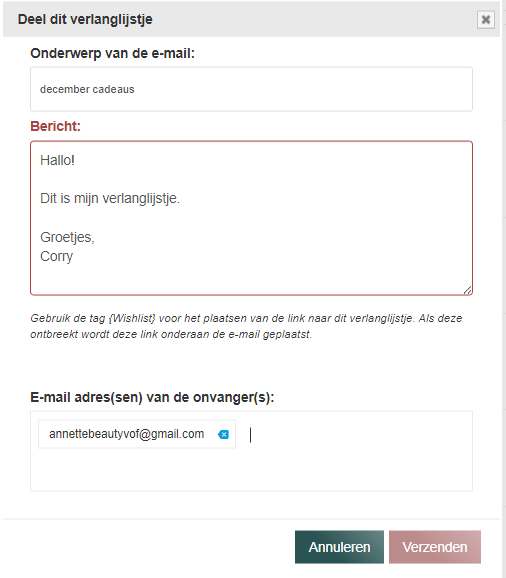 This is how simple it can be…having problems sharing your list, Annette will be happy to help you: 06 30746623
Gift inspiration: Like making your own gifts? Perhaps you will like this idea for a drone enthusiast in your family:
Gift idea for a drone enthusiast (dutch)