Geschatte leestijd: 4 minutes
De verdwijnstift
Een verdwijnstift is een stift voor tekenen op stof. De markeringen verdwijnen vanzelf weer, vandaar de naam! Een andere naam voor deze stift is fantoomstift. Meestal tekent de stift paars, er zijn ook roze fantoomstiften verkrijgbaar.
Na het zetten van de lijn, lost die als het ware op doordat er licht op valt. De lijn wordt langzaam vager totdat je hem niet meer kunt zien.
Tip: Is je lijn helemaal verdwenen, maar je hebt hem nog nodig? Gebruik een strijkijzer om de lijn weer zichtbaar te maken!
Oplosstift voor verdwijnstift
Een nieuw product in ons assortiment is de oplosstift voor verdwijnstift of fantoomstift. Maar de paarse lijn gaat toch met licht weg?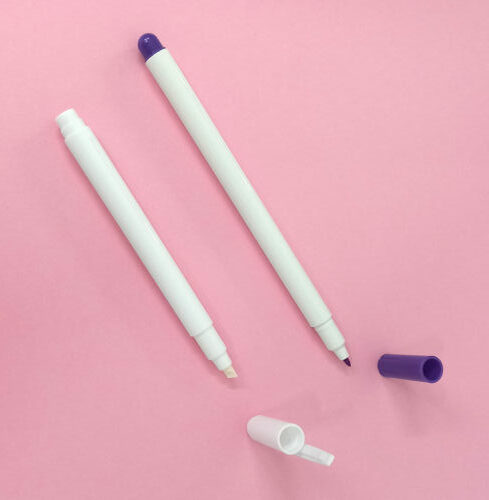 Dat klopt maar stel je wilt hem sneller kwijt, dan pak je de oplosstift en dan is je lijn meteen weg. Ook hierbij is het handig om even te testen hoe je stof reageert met de oplosstift voordat je hem over je voorpand haalt…
Als je de punten van de stiften bekijkt zie je dat de verdwijnstift een kleine ronde punt heeft. De oplosstift daarintegen heeft een platte punt, lijkt op een markeerstift. Met de platte punt kun je makkelijker je paarse lijntje wegpoetsen.
De aquastift – blauwe lijn
Het zusje van de verdwijnstift is de aquastift. Aan de naam kan je al zien wat zij doet. Ze maakt blauwe lijnen op de stof en die kan je uitwassen met water. De aquastift is perfect om te combineren met Soluvlies of Solufix. Deze soorten Vlieseline zijn namelijk ook uitwasbaar…
Deze praktische verdwijnstift en aquastift zijn onmisbaar bij het naaien en quilten. Omdat je er eenvoudig een streepje mee kunt zetten, een zakingang aangeven, een plaats voor een knoopsgat, enzovoort. Voor de creatievelingen onder ons hebben deze stiften ook veel mogelijkheden. In ons blog Solufix, wat is dat? kan je zien hoe je een verdwijnstift of aquastift gebruikt.
De verdwijnstift (en de aquastift) worden ook veel gebruikt bij het maken van bruidsjurken en pakken. Bruidsmode moet vlekvrij blijven en kleermakerskrijt kan hierbij problemen geven. Daarom worden veelal de stiften gebruikt.
Tip: Test eerst op een onopvallende plaats of op een restje stof uit of de markering van de stift geheel oplost...
Ben je benieuwd naar wat we nog meer verkopen voor het maken van bruidskleding? Klik dan op de knop hieronder…
Op stof tekenen kan met vele verschillende producten waar de aquastift en verdwijnstift een voorbeeld van zijn. Andere artikelen voor markeren op textiel zijn het ouderwetse kleermakerskrijt, krijtwielen, vulpotloden met krijtstiften, chemisch krijt of verdwijnkrijt en kopieerpapier wat je samen met een radeerwiel kan gebruiken. Om maar een paar te noemen. Nieuwsgierig naar de mogelijkheden? Klik op de knop: Naar de shop!